The original Swiss Army taillights not only have the wrong color for the brake lights (amber) , they aren't very bright either and the replacement bulbs are pretty expensive in the US. This is a bit of a risk when driving at night and as the lenses weren't the best either we decided to go for modern LED lights with 4" diameter. There are only a few LED lights which can operate at 24V ranging from very expensive (Hella) to reasonable. As we didn't like the looks of the more expensive lights (OK, OK, the Hella would have been nice!) we decided to use the model from Fleet Pride (made in China, where else?) which is surprisingly cheap and good. Due to the low cost we decided to install 4 of them, two on each side and wire them as shown on http://www.sdp-pinzgauer.org . The LED's are usually installed in a large hole by means of a grommet but we didn't want to weaken the mounting plate. Therefor a housing had to be manufactured. Tom Childers came up with a brilliant idea: 4" PVC pipe ends and clean out adapters....... Opposite to his solution we decided not to use self taping screws but hold the inserts with rivnuts and SS-M4 screws. The clean out adapters are shortened on the threaded side and the LED light lenses are just level with the "housing".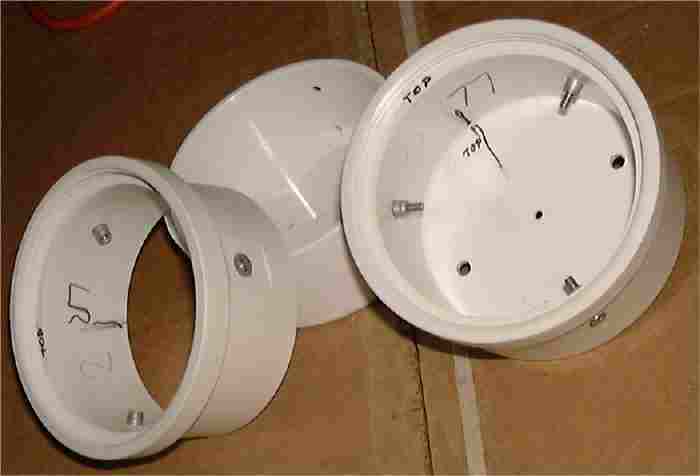 The housings ready to be painted. The top is actually on the other side as marked. The connector of the LED lights would have been a bit in the way of the screw............

STOP! Don't forget to drill some "pee-holes" at the lowest point into the housings! Otherwise water may get trapped inside. A 3mm (1/8") hole is sufficient. Painting PVC is a bit problematic. We washed the "fixtures' with PVC cleaner which slightly attacks the PVC and primed them while still a bit tacky. Then two final layers of forest green. Let's hope it holds the test of time.......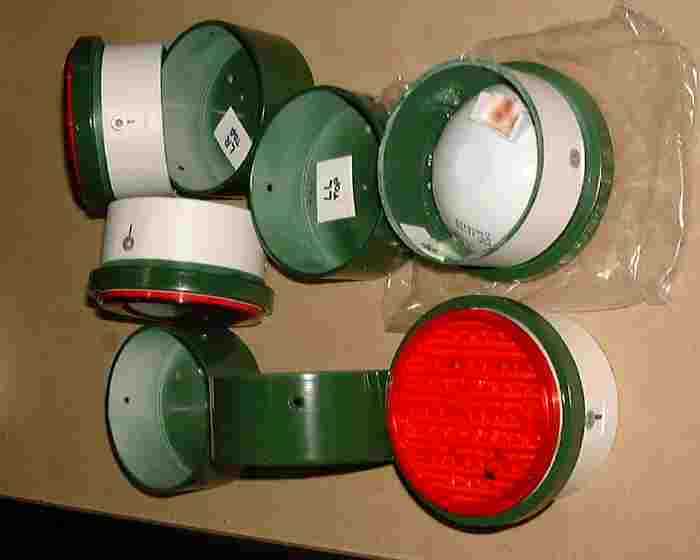 The painted housings with the LED lights installed. The lights are glued into the threaded part with plumbing-goop or 3M 5200. "Top" already moved......


Lights installed. The open "fixture" shows the diodes embedded in liquid tape and shrink tube to protect them from humidity/water.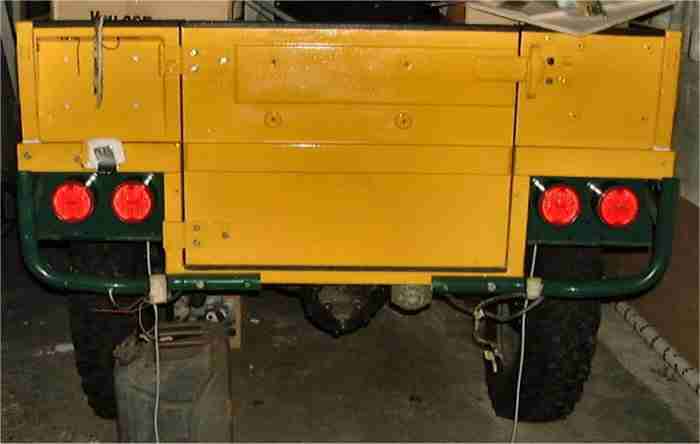 Doesn't it look almost OEM?
The original electromechanical flasher doesn't work with most LED lights. As it's usually pretty aged and unreliable it's a good idea to replace it with a modern electronic flasher.